Spray Foam Insulation Services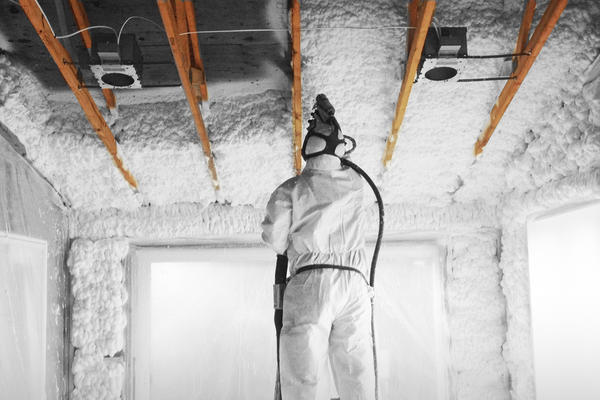 Alves Insulation has been a top spray foam contractor in Massachusetts and Connecticut for many years. Our passion and dedication to quality service has help us gain a reputation as one of the best. We are always on time and make sure your home is clean when we leave.
The weather in Massachusetts and Connecticut can be very brutal on your home or business. Let us help you make your building more comfortable and safer with spray foam insulation.
What types of spray foam insulation are there?
There are two main types of spray foam insulation. Open Cell and Closed Cell.
Open cell spray foam insulation is normally recommended for indoor applications. It's great for interior walls which need insulation and sound reduction, but do no need any sort of water vapor barrier. This type of foam is less expensive than closed cell foam, but not as effective as.
Closed cell foam insulation is great for providing an air barrier as well as a water vapor barrier. Closed cell spray foam can be used anywhere in a home including interior walls. It is also best to use closed cell foam on roofs, attics, and any other outdoor projects.
Is spray foam insulation safe to use in my home?
Spray foam insulation is safe and eco-friendly. Alves Insulation is a certified ThermoSeal spray foam installer. All of our certified installers wear the appropriate protective clothing to ensure proper application and safety for everyone on the work site. Spray foam can be used anywhere in your home. Most comply its applied in walls, roofs, attics, basements, and ceilings. When your home is well insulated many people see a reduction in allergies because the air, dust, and pollen from outside are not getting in their home. ThermoSeal spray foam offers tremendous health benefits over fiberglass and cellulose insulation. It also has incredible sound quieting properties and adds significant building strength to make your home or building an overall safer structure.
What is the process of adding spray foam to my house?
At Alves Insulation we do our best to explain as much or as little as you prefer about the process. We like to make sure you have all the information you need to make the decision to add spray foam insulation to your home. As a spray foam insulation contractor, we know how important it is for you to understand what to expect when adding spray foam to your house. After many years or experience we have a winning formula that will make you feel confident about your decision to use spray foam. Below are the general steps:
Step 1: A Thorough Onsite Inspection
As part of the first step to every spray foam insulation project we meet with you in person (homeowners/business owners). We discuss and review your insulation needs to get a better understanding of what you would like to achieve. For example: sound proofing, cooler summers, warmer winters, stop drafts, etc. We then inspect the home or building to review what is currently on premise. Once the onsite inspection is complete, we are able to recommend what type of spray foam is the best for your home or building, based on your comfort needs and budget.
Step 2: Onsite Preparation
We always arrive on time and begin preparing the work area by pulling out existing insulation if there is any and properly disposing of it. We also block and seal off areas that will have spray foam insulation applied to them. We also clear paths/access for our spray foam lines and equipment. All windows, doors, and floors are completely covered to protect them from any over spray.
Step 3: Apply Spray Foam Insulation
Once the work site is complete prepped, we apply the spray foam insulation to each section of the home or building as required. Each room is then sealed off until the spray foam insulation completely sets and dries. Then we remove and dispose of any excess materials during clean up. Before we leave premise we make sure everything is clean. Many of our customers have said that their home appears cleaner after we complete a job then before the project started!
Step 4: Final Inspection
We review each room and section with the you to make sure you are 100% satisfied with the final result. This is a great time to ask any lingering questions. We are very passionate about what we do and take great joy in making sure you get exactly what you need.